If cute, whimsical or fun accessories are part of your plan for your kitchen, consider pink pig kitchen decor for your sink and table. Little accents pieces can add so much to look of your theme.
What the Kitchen Sink Needs
We all have some things that sit next to or as part of our sink. Things like a pot scrubber holder, an egg timer, even the little vegetable and fruit scrubber. Wouldn't it be great if they can match our own theme or style and add to the look of the kitchen? Too often these needed accessories are put away, under the sink or hidden in a cabinet because they just look too ugly sitting out. When they are put away, they are no longer handy. That's not such a good thing in a kitchen. The handier the items the more we will use them.
When working with any kitchen theme, the accessories are a great part. You want to have the right color scheme, of course. But you can work with your accessories to create that color scheme. Little things like a placemat on the table, kitchen towels hanging close by, even a pink pig pitcher are the right accessories.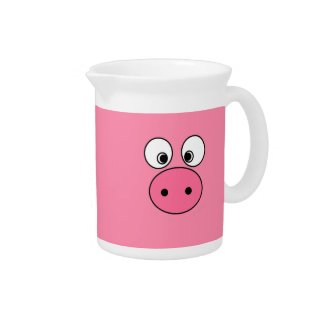 Pink Pig Face and Bum! Pitchers
by
houseme
Browse more Pink Pitchers at
Zazzle
Whimsical Pink Pig Kitchen Decor to Keep Things Handy
When my daughter decided she wanted to go with a pink pig theme for her kitchen, I had a heyday choosing all sorts of fun accessories for her. Her favorites though were the little pigs that set up next to her kitchen sink. These are the three items that she uses regularly. And gets great comments about.
 Boston Warehouse Pink Earthenware Pig Scrubby Holder
 Joie Piggy Wiggy Timer
 Boston Warehouse Suds Buds Brush Scrubber and Holder, Pig in Pen Design
My daughter went with plenty of other pink items in her kitchen. These by her sink are still those great and handy items that she uses regularly. They turned out to be inexpensive but perfect gifts for her.
Pink Pig Kitchen Accessories for Gifts
Since I got my daughter set up with her pink pig kitchen sink, I have had the opportunity to give little kitchen accessories as gifts quite a few times. Bridal showers and weddings always are great excuses. But housewarming gifts and hostess gifts work too to bring along a little something extra for the kitchen. A whimsical pink pig kitchen decor item is always a hit.